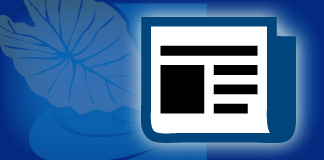 E nā ʻohana Hawaiʻi
: If you are planning a reunion or looking for genealogical information, Ka Wai Ola will print your listing at no charge on a space-available basis. Listings should not exceed 200 words. OHA reserves the right to edit all submissions for length. Send your information by mail, or e-mail
kwo@OHA.org
. E ola nā mamo a Hāloa!
2020
Dole – The descendants of William Patrick Dole and Emily Keli'iahonui Kekoa Dole are planning a family reunion on Saturday August 8, 2020 at the Waimänalo Beach Park, Oʻahu, Hawaiʻi. William Dole and Emily K. Dole had 10 children, most of whom have produced descendants who are the next generation of cousins. Their children are named, Emily Kaʻauwai, Henry Dole, Billy Dole, Simeon Dole, Henrietta Carter, Muriel Duvachelle, Benjamin Dole, Richard Dole Kaai, Eleanor Ka-Ne, and Loretta Kwock. The organizers encourage all family descendants to attend and be a part of this family reunion and celebration. The morning will begin with a prayer of blessings as we celebrate the 126th birthday of our tutu Emily K. Dole. There will be talk story sessions, a Paʻina Hawaiian Luncheon, family entertainment, games, and in the afternoon family genealogy workshops. Camping will be allowed by permit. Don't miss out on this opportunity to get to meet cousins that you have not met. For more information, please contact: Camie Apau 808-852-9880, Holly Kwock Kaleohano 808-348-0077, Peewee Ka-Ne 808-990-5242.
Kahele ʻOhana Miloliʻi – Kahele ʻOhana Miloliʻi gathering for July 2020 is cancelled and will be rescheduled at a future date. We are still looking for descendants of John Halena Kahele and Maria Malaea Nunuha and their children Ellen Kalawae'a, John Halena, Hannah Koanohano, William Kalilipio Keomaka, Peter Kahuaka'e, Henry Nahinu and Abel Pepe Kaliliaku. For more information, please contact Renee Olivera at (808) 640-5959, Gloria Wagner at (808) 436-5074 or Sharon "Malama" Faalele at (808) 485-2861.
Kuakahela/Kalimaonaona – Descendants of Kuakahela and Keaka Kalimaonaona. Children: Naiheauhau, Kaaihue, Kealohapauole, Kamau, Kaunahi, Kimona, Wahinelawaia and Keau. The reunion is set for July 25 and 26, 2020 at Makaeo Events Pavilion, Old Airport Beach Park, Kailua-Kona, Hawaiʻi. Need head count by June 1, 2020. Call Agnes at 808-987-1884. If you have any questions contact President, Apo Aquino or on Facebook (Kaukahela ʻOhana).
Manu/Kawelo – Cancelled and postponed to next year.
Shim – REUNION FOR HAWAIIAN, CHINESE BRANCHES, WAILUKU. Shim reunion with the theme "Tracing and Connecting Shim Family Roots" will convene July 23 to 25, 2021, on Maui. Mook Shim had six children each by a Chinese wife, Chu Shee, and a Hawaiian wife, Lily Kapoliahi`iaka Napaepae. Offspring with the latter were, as follows: Edward Loi Hing Shim; Margaret Wong Starkey; Henry Shim; Joseph Shim; Thelma Yanagi, and Kathryn Chung. Chinese offspring were Albert, Edward, Hannah, Henry, Minnie and Robert Shim. Organizers especially invite descendants (1) of Napaepae's brother, William (Pauahi) Keli'ihelehua of Molokai, and sisters Roselae (Joseph) Paki and Julia (Samuel) Paki of Maui, and (2) of Bow Shim, whose offspring were Anna, Stanley, Harold, Rose, James, Daisy, Mabel and Sarah Shim. Contact Sarah Shim on Maui at email: ssuncleping9@gmail.com or (808) 281-1681, or Ewalani Shim on Maui at (808) 760-8913.
Woolsey – The descendants of George Lewis Woolsey and Annie Kamakakaulani Akana are planning a family reunion on July 2-5, 2020 at He Piko No Waiohuli, Kula, Maui, Hawaiʻi. George Lewis Woolsey and Annie Kamakakaulani Akana had four children, all of whom have produced descendants: Matilda Woolsey Norton, George Woolsey, James Woolsey and Miriam Woolsey Jay Reed. We will talk story, have music, games, enjoy each other's company and have genealogy updates during the reunion. Camping is allowed. For more information, please email Hope: woolseyohana@gmail.com.
ʻImi ʻOhana • FAMILY SEARCH