Ko Kula Uka , Ko Kula Kai – Kalo A 'Upena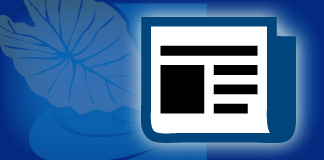 Saint Louis School hosts Kalo a ʻUpena a multi-day event that will feature workshops and presentations about kalo and ʻupena. Our ʻāina, both land and sea, provide us with all that we need to sustain and survive. Ko Kula Uka, Ko Kula Kai – Kalo a ʻUpena will showcase the traditions of kalo and Hāloa, and the fishing traditions of ʻupena. This event is sponsored through an OHA ʻAhahui Grant. Honolulu.
Calendar Listings
– To have a local event listed in our monthly calendar, email
kwo@oha.org
at least six weeks in advance. Make sure to include the location, price, date and time. If available, please attach a high-resolution (300 dpi) photograph with your email.