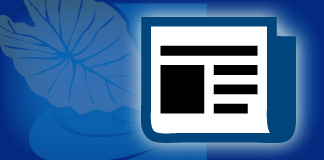 ʻohana
1. nvs. Family, relative, kin group; related.
Aloha mai kākou,
This is the time of year when our hearts turn towards ʻohana; the anticipation of gathering with family and friends to celebrate the holidays, and of sharing food, music, laughter and love. Here in Hawaiʻi, for many of us, ʻohana does not just include our blood relations. ʻOhana often includes our friends, co-workers and neighbors. These bonds are deep and extend far beyond the limits of our bloodlines.
ʻOhana is central to who we are as Kānaka Maoli. Mālama and caring for one-another, from our keiki to our kūpuna, is part of our identity; it is at the heart of who we are as Hawaiians. In this issue of Ka Wai Ola, we focus on the needs of some of the most vulnerable members of our ʻohana and community: Native Hawaiian keiki in foster care.
Native Hawaiian children comprise nearly half of the 1,700 keiki in the foster care system in Hawaiʻi. Surprisingly, they are twice as likely as war veterans to develop PTSD (Post Traumatic Stress Disorder), and six times more likely to develop PTSD than the general population. This is nothing short of a crisis. Without kōkua, many of our keiki will be doomed to repeat the cycle of generational poverty; and the natural talents and gifts they possess, and the things they were meant to do and achieve and be, will remain dormant, unrealized and unfulfilled.
Throughout the pae ʻāina there are incredible organizations and individuals who are redefining ʻohana and expanding its definition to mālama our keiki. You will meet some of them in this issue.
ʻOhana, moʻomeheu and ʻāina comprise OHA's strategic foundations. So when there is ʻeha in our ʻohana, when someone in the family is hurt, what should be our response? In a season that is all about ʻohana and kahiau, when our hearts become tender and we reflect on our blessings from Ke Akua, what should be our response? There are hundreds of Native Hawaiian keiki in foster care who need the love and kākoʻo of our larger and broader community ʻohana.
When all is said and done, societies are judged by the way they care for their most vulnerable: keiki and kūpuna. Strong ʻohana makes for strong kaiāulu and a strong lāhui. Let us be the kind of community that steps up to ʻauamo our kuleana to mālama our ʻohana. E mālama pono kākou a Mele Kalikimaka.
Sylvia Hussey, Ed.D.
Ka Pouhana/Chief Executive Officer