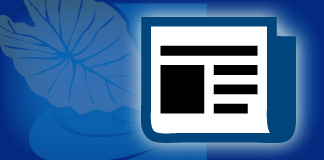 Calendar Listings
– To have a local event listed in our monthly calendar, email
kwo@oha.org
at least six weeks in advance. Make sure to include the location, price, date and time. If available, please attach a high-resolution (300 dpi) photograph with your email.
91st Annual Lei Day Celebration
May 1, 10 a.m. to 3 p.m.
May Day is Lei Day in Hawai'i and a slate of activities are planned at Kapi'olani Park including performances by the Hawaiian Steel Guitar Association, a lei contest exhibit, Tūtū's Hale for keiki and Kūlana Lei, a village of Hawaiian artisans. Free. Kapi'olani Park, including the Waikīkī Shell and bandstand, goo.gl/gjuMaV.
Nāki'i a Pa'a: 32-hour Marathon Hale Wa'a Thatching Event
May 4-5
In an effort to continue to help strengthen the Waimānalo community, Hui Mālama O Ke Kai is hosting a 32-hour hale thatching marathon. Come and kōkua in the effort to complete a community hale wa'a for all of Waimānalo to use. With every nāki'i (tie) that you make, you are imprinting your mana and aloha into the lives of the keiki and 'ohana of Waimānalo as well as those of Hawai'i Nei. Visit www.huimalamaokekai.org or call for information and to register.
Hawai'i Book & Music Festival
May 5-6, 10 a.m. to 5 p.m.
More than 200 speakers, events and activities will pack the municipal grounds near Honolulu Hale, including two days of Alana Hawaiian culture programming sponsored by OHA. Free. Frank S. Fasi Civic Grounds, hawaiibookandmusicfestival.com. OHA provided an 'Ahahui grant for this event.
Hōkūlea Mahalo Hawai'i Sail
May 5, 9 a.m. to 2 p.m.
Head to Kawaihae Harbor to hear more about Hōkūle'a's Mālama Honua Worldwide Voyage, tour the wa'a (canoe) and visit the education expo. Free. Kawaihae Harbor, Waimea, www.hokulea.com.
Kailua Artisans Fair
May 5, 9 a.m. to 3 p.m.
The third annual fair features more than 50 booths featuring fine art, woodworking, photography, jewelry, pottery, glass, textiles and more, along with live music throughout the event. Free. 340 Uluniu Drive, Kailua, (808) 388-9696.
Parade of Farms: 'Nalo Style
May 5, 9 a.m. to 3 p.m.
Tour local farms and agribusinesses in Waimānalo at the third annual Parade of Farms for a behind-the-scenes look into local agriculture. The event features an info fair, keiki activities and a farmer's market, in addition to tours. Free, with additional fees for optional guided tours. Waimānalo Research Station, parade-of-farms.org. (Some guided tours have been canceled due to storm damage.)
Stories from Hōkūlea's Worldwide Voyage: Raising Rapa Nui
May 17, 6 to 7:30 p.m.
Hear from Hōkūle'a crew members about a unique leg of the Worldwide Voyage, sailing from the Galapagos Islands to tiny Rapa Nui (Eastern Island) without a Pwo (master navigator) aboard. $10. Bishop Museum, Hawaiian Hall, hokulea.com.
Malia Craver Hula Kahiko Competition
May 19, 10 a.m.
This competition provides Hawai'i's secondary school students a venue to showcase their achievements in hula and chant, compete with their peers and learn more about Hawaiian culture, dance and traditions. Tickets will be available at the event. Saint Louis School gymnasium, goo.gl/mLG7si. OHA provided an 'Ahahui grant for this event.
Nā Hōkū Hanohano Awards
May 19, registration begins at 3:30
The 41st annual awards show celebrates the talent and excellence in recording arts, with performances by some of Hawai'i's most celebrated musicians. $175 general admission, with discounts for HARA members and kama'āina, and a $250 premium seating option. The event will also be televised on KFVE. Hawai'i Convention Center, nahokuhanohano.org.
Hāmākua Harvest Farm Festival
May 20, 8 a.m. to 3 p.m.
This annual festival will feature 40 vendors selling locally produced products and artisanal foods, keiki activities and silent auction and educational and cultural experiences. Free. Hāmākua Harvest in Honoka'a, hamakuaharvest.org.
Moloka'i Ka Hula Piko
May 31-June 2
This three-day cultural event celebrates Moloka'i's hula and oral traditions about the island being the birthplace of hula. Huaka'i, a kumu hula panel and ho'olaule'a are among the activities. Visit www.kahulapiko.com for details.
12th Annual MAMo Wearable Art Show
May 30, 6:30 to 9:30 p.m.
Featuring traditional and cutting-edge styles from Hawai'i's top designers, the MAMo Wearable Arts Show is a highlight of Maoli Arts Movement's May events. Show-only tickets are $100, with additional dinner and wine options starting at $200. Tapa Ballroom, Hilton Hawaiian Village Waikīkī Beach Resort, paifoundation.org.