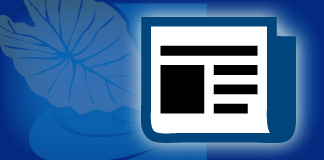 POW! WOW! Hawaii 2019
Feb. 9-16, 11 a.m. to 6 p.m.
Centered around murals and art, POW! WOW! has grown into a global network of artists and organizes art exhibitions, lecture series, schools for art and music, creative community spaces, concerts, and live art installations across the globe. This year, the festival will bring many international and local artist together to create murals and other forms of art. As a home grown and independent art festival, POW! WOW! is now recognized as one of the most premier and well-curated art festivals in the world. Stop by to create or observe! Lana Lane Studios. powwowhawaii.com.
---
Hānauna Kapa
Jan. 31 through Mar. 10, 9 a.m. to 1 p.m.
Hānauna Kapa presents the regrowth and process of kapa-making, from its traditional roots to the contemporary artists on Hawai'i who create kapa today. The discoveries, experiences and creative growth of the community of contemporary kapa makers demonstrate that the creative spirit of the past is still very much a part of the fabric of Hawaiian life today. The event runs from Jan. 31 to Mar. 10, 2019, at the Kahilu Theatre. Please join Roen Hufford, accomplished kapa and lei maker and farmer, and other participating artists for the opening reception and guided tour Thursday, January 31, from 5 to 7 p.m. Free. Simperman Gallery.
---
Rapa Nui: The Untold Stories of Easter Island
Feb. 1 through May 5, 9 a.m. to 5 p.m.
Bishop Museum presents a new exhibit; Rapa Nui: The Untold Stories of Easter Island. This exhibit will showcase recent studies conducted by Bishop Museum researchers and collaborators to highlight some lesser-known stories about the island. More than 150 cultural treasures and never-before-seen biological specimens from the museum's collections will be on display together for the first time! Free exhibit entry with purchase of Bishop Museum admission. Bishop Museum.
---
Wahine Hāpai
Feb. 2 or Feb. 16 (Kaunakakai)
Learn more about traditional breastfeeding practices and all things prenatal and postpartum, as well as wahine hāpai and keiki lomi sessions for families. There will also be an opportunity to learn lā'au lapa'au knowledge of local plants that are used to support healthy pregnancy, birth, newborn health and beyond. For more information and to register, call Nāā Pu'uwai Native Hawaiian Health Care System (808) 560-3653.
---
Wiliwili Festival (8th Annual)
Feb. 9, 9 a.m. to 3 p.m.
The Waikoloa Dry Forest Initiative presents The 8th Annual Wiliwili Festival, a fun, free, educational event for all ages! This event is a great opportunity to learn more about the unique environment of our island. This year there will be guided tours of the Waikoloa Dry Forest Preserve, on-site workshops, educational talks, music, food, vendors, and a silent auction. Join and celebrate our island's beloved Wiliwili trees! Waikoloa Stables.
---
Art with Aloha: Ni'ihau Shell Earrings with Kele Kanahele
Feb. 10, 10 a.m. to 2 p.m.
Learn to create lovely Ni'ihau shell earrings! Skilled Ni'ihau shell master, Kele Kanahele, will teach authentic techniques and attendees will walk away with a wearable set of earrings made with beautiful Ni'ihau shells. Register online at huinoeau.com. Tuition: $30, Supply Fee: $75. A supply list is posted online at huinoeau.com under the class description. Hui No'eau Visual Arts Center.
---
Valentine's Day Dinner in Waimea Valley
Feb. 14, 6 p.m. to 9 p.m.
Spend a romantic Valentine's Day enjoying dinner in the Waimea Valley gardens at their restaurant, The Proud Peacock. Kick off the evening with a complimentary glass of sparkling wine, followed with an appetizer and five-course meal prepared by Ke Nui Kitchen. $90 before tax and gratuity. Reservations: waimeavalley.net
---
Ka Piko: Celebrating Waimānalo
Feb. 16, 9 a.m. to 3 p.m.
Save the date for "Ka Piko," a community celebration of Waimānalo! Ka Piko: Celebrating Waimānalo is an all-ages event that brings the community together to highlight the unique qualities of the Waimānalo ahapua'a through food, culture and education. There will be special performances by Kalani Pe'a and Napua Greig, and plenty activities for nā keiki! Free admission, entertainment and activities; food and merchandise sold separately. Waimānalo Beach Park. For more information, call (808) 543-7511 or visit www.facebook.com/friendsofwaimanalo
---
Hawaiian Steel Guitar Festival at Ka Makana Ali'i
Feb. 16, 11 a.m. to 3 p.m.
The Hawaiian Steel Guitar Festival at Ka Makana Ali'i is coming to West O'ahu! The program will include performances by Next Generation (keiki) steel guitar players and Hawaiian steel guitar masters Alan Akaka, Jeff Au Hoy, Bobby Ingano and Grey Sardinha. Free, open to the public. Ka Makana Ali'i. For more information, go to hawaiiansteelguitarfestival.com/
---
Lauhala Weaving Workshops at Ka'ala Farms
Jan. 26, Feb. 9, Mar. 16 and Apr. 13, 8:30 a.m. to 12:30 p.m.
In this new year, Ka'ala Farms will be hosting a series of Lauhala Weaving Workshops. These workshops offer a hands-on learning opportunity that will help us grow and increase knowledge, develop skills and a deeper appreciation for the art of weaving. Please bring a spray bottle, scissors, paring knife, a washcloth and dish towel size cloth. $50 per person per each workshop day or $200 for each series. Price includes registration fee, kit, materials for weaving project and instruction time. To register email cheryl@kaala.org or call (808)387-1146.